"It was an evil house from the beginning - a house that was born bad."
– Dr. John Markway, The Haunting
You have entered the House of BtS...
a house that exists
"Beyond the Supernatural"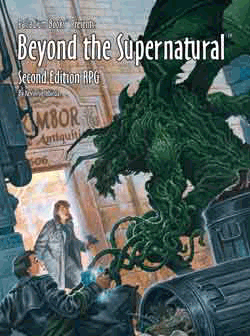 "Welcome to my house, I'm delighted that you could come. I am certain you will find your stay most illuminating. It is regrettable that I cannot be with you, but I had to leave before your arrival. Do not let my physical absence disturb you, however. Think of me as your unseen host and believe that, during your stay here, I shall be with you in spirit. May you find the answer that you seek. It is here, I promise you."
-Emeric Belasco, Hell House
Step into my parlor... welcome to my House, which is dedicated to the Beyond the Supernatural™ (BtS) Role Playing Game from Palladium Books™. All of the content within this house is a collection of thoughts, ideas and suggestions to help you improve your BtS gaming experience. It also serves as practice for my continuing education as a web designer, so stop by regularly for updates to both the site and content.
Beyond the News and Updates
March 2014
February 2014
January 2014
December 2013
November 2013
Archives
March 2014
3/31/14 - I'm happy to announce that the latest renovation of the House is complete! If I could point you towards the top of the page, you'll notice that the navigation has been completely redesigned. Traversing through the House has never been faster (allowing the guests to fall prey the many horrors inside that much quicker).

While I was at it, I added a new coat of paint on the walls, rewrote some of the text that needed touching up, had a layer of blood spatter and gore cleaned off the floor, and even found the time to add some new content. I wont tell you what's new as there are several things, I'll leave it to you to seek them out. Happy hunting!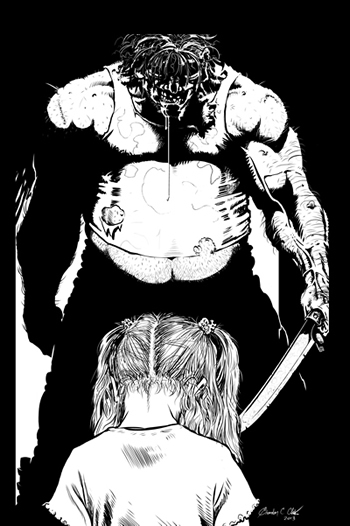 3/16/14 - May I have everyone's attention please?
Brandon C. Clark is the interior decorator of the House of BtS, and in many ways I consider him my right hand concerning matters in the House.
Well, Brandon has run into a stitch that you can help unravel. In short, he needs character commissions, and the speedier your commission come the better.
I can tell you from personal experience, Brandon understands and knows the BtS vibe (or other RPG settings if desired), his character commissions are always top shelf quality, and he's expedient. I have an photo album dedicated to his work on The FaceBook page (and spattered around the walls of the House) if you want examples of his fine work.
His standard rate is $25 for a character portrait (unless you want something intricate). Honestly, for the quality of his work, that's an outright steal!
Brandon has a Facebook page where you can befriend and reach him at, or you can contact him via his email address at goldbrandonium@gmail.com (which coincidentally is the PayPal address you can send him funds through).
3/15/14 - Spring cleaning fever has overcome your Host here at the House. The majority of my staff and servers have been overcome with a variety of other kinds of fever, but they remain as dutiful as they are ill.

The House is the process of a major overhaul to its navigation (which has been a long time coming) as well a fresh coat of paint where needed. I'll even be adding some new content when the update is available!

I havent been this excited about an update since I added on some extra walls in the basement. You know, the one's I used to bury a few bodies behind for convenience sake. Granted, they were all alive at the time, but the devil's always in the details isnt it?

I'll let you know via the Palladium Forums and the Facebook page when the overhaul is finished.
3/9/14 - Due to the growing amount of traffic (it gets crowded in here sometimes), I've added some extra space in the house so hopefully we wont experience any more black outs in the house. I'll keep a watchful eye on it, but if it does happen I apologize in advance. Know that I'll keep working on it.
Keep up to date with all the paranormal activities and supernatural occurrences that go on within the House of BtS by liking the Facebook Page.

Honestly, its a pretty active place with lots of imagery, discussions, ideas, adventures, and more, and new things are escaping and stalking the grounds all the time.

So like our page... your life just might depend on it!

February 2014
2/4/14 - Dave Watkins is one of my BTS buds and was one of the first real fans of my writing. He's also one of the best Sensitive Psychic player's I've had the privilege to game with.

Well today is his birthday, and in celebration of it I've posted Sakura Ikeda, a new pregenerated player character to the creations page. She's a very different kind of character to me, and she's a Sensitive Psychic no less!

Dave, I hope your birthday goes beyond the supernatural buddy!
Click here for Sakura's character information
2/3/14 - February is here, and love is in the air at the House of BTS. Or is that decay? Or maybe blood? Formaldehyde perhaps? Well, whatever that smell is, it accompanies my update of the BTS Books page with details on the Rifter #65. This issue is a good thing as it marks frequent house guest and contributor Anthony Uyl's latest BTS adventure, "Hollow Road"! Go ahead and read all about it!
January 2014
I hope you all had a happy and haunted New Years. I also hope that you look forward to another year of horrors and terror here at the house; you host feels certain that you will get them, in abundance.
1/26/14 - The "Semi-Retired Gamer" is a blog featuring the game related ramblings and ideas of a role-player of over 30 years. And I'm proud to say that he reviewed the House of BTS on his blog! And what did he have to say? Heres a few excerpts:

"Even thought I do not own or play BTS yet, I found the fan site to be extremely well done and should be of use to others."

"This site is basically what every gaming fan site should strive to be."

So click here to read his full review; tell him the Host sent you while your there.
1/17/14 - I've been slowly updating and adding some new material (and some much needed new imagery)to the Inspirations Page, including new movies and television shows. I hope this inspires you to head on over and take a look.
1/16/14 - Its been awhile since I've updated the Rifter section with new BTS material in them. So head on over to the BTS Books Section to see the latest Rifters with new material.

By the way, I hear that congratulations are in order as contributing House of BTS writer Anthony Uyl will get one of his BTS adventure published in the Rifter #65! Way to go Mr. Uyl!
1/15/14 - In case you haven't been keeping tabs on the house, Brandon C. Clark has been on an illustrating spree on the creations page, illustrating several of the pregenerated characters, with plans of illustrating more. So please continue to stop by regularly to see who's been updated. When I get a new illustration from him, I update the character sheets while I'm at (touch up errors and omissions and so on).
December 2013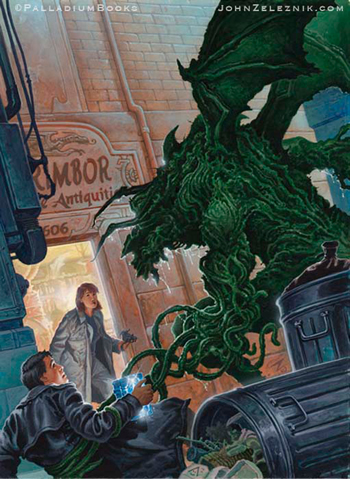 12/24/13 - The staff have all been opening their Christmas gifts early here in the House of BTS. Their gifts are as varied as they are thoughtful, including shrunken heads, live poisonous snakes, Brain Burrowers, bottles full of plagues and rare incurable diseases, possessing entities, evil genies, and dead bodies. What can I say? I'm a giver.

But for you wonderful guests of the House, a couple Palladium Books BTS artists have a few special gifts for you!
First off, frequent House of BTS art contributor Brandon C. Clark (who has been upgraded from being a house guest to regularly being tortured in the basement) has been on a roll with illustrating character portraits for the many pregenerated characters on the Creations page. I wont list them all here; I'll let you be surprised by going down the list to see who's gotten an illustrated face lift as of late. Thank you for your contributions Brandon, you deserve the greatest comforts the House can bestow upon you... NOW BACK IN THE IRON MAIDEN YOU GO!

The other gift comes from Palladium Books cover artist John Zeleznik, who has graciously sent a large image of the BTS-2nd edition book cover. This version is less washed out than the image were familiar with, and it looks fantastic! The cover is large enough to be used as a desktop wallpaper if so desired! So click on the cover art for the full size cover art.

From the artists, the staff, and myself: May you all have a merry and mysterious Christmas this year!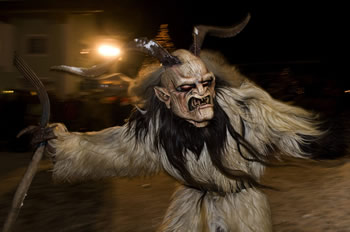 12/6/13 - Today's little Christmas gift can be found over in the Adventure Ideas section.

As its Christmas time, I felt that it was worthwhile creating an adventure based around the Christmas season. To that end, the Krampus is coming to town!

Check out page 5 of the Adventures Ideas area to read all about it!

12/4/13 - Well, some guests show up and have such a great time at the house that that they don't want to leave! This was Chopper's case, who ended up hanging around for an extra week. While he was welcome to stay longer, Chopper decided that it was time to get back to his vendetta. Those of you who missed him (and his character sheet), he'll be back for next year's Thanksgiving. I'd like to thank Kent Burles again for letting one of his serial killers hang out with us here at the house.

As we now dive into the Christmas season, I'm full of X-mas cheer as the house has been full of strange noises, bumps in the night, and other paranormal activity over the last few months. She continues to grow to monstrous proportions as more new writers and artists continue to get involved while old favorites continue to be involved. I've also got a few presents in store for everyone this month, but they will have to wait until they're ready to be seen. No early peeking now!

Actually, I'll let you open up a present now: I've updated the Player Tips section of the house with some new insights, thoughts and ideas while touching up some of the past tips. So head on over to read what's new and improved.
November 2014
From the desk of your host, who has a lot to be thankful for this year:

In the two years since the House of BTS was erected, I've met some really great fans, met some really talented people (writers and artists alike), made some new friends, and have even helped at least a few people discover and appreciate playing the Beyond the Supernatural RPG.

Well, this year has been an especially fruitful one for the house, and for the Thanksgiving season I wanted to take a moment to mention some of the people who I'm thankful to for being a part of the site. These people have helped make the House of BTS such a great fan site over the last year, and they deserve to be mentioned.
Note: While I'm trying to include everyone whose helped out or contributed in some way this last year, if your name isn't on this list, I apologies for the omission. The house is a busy place, and things sometimes just fall through the cracks… including people.

Ted Ryberg- Ted has been a friend of mine for nearly 18 years now, he's played in many of my home games (RIFTS in particular), and he's always been a cool and generous guy. His generosity continued this year as he graciously began hosting the House of BTS on one of his servers this last May. As I'm a recent college graduate and still haven't found full time employment, his effectively covering my costs of hosting the site has not gone unnoticed, and I'm extremely thankful for it. He's really the reason that there's a dedicated web address and permanent place for the house (as opposed to using a school server like I had been).

The Contributing Artists: There have been some great artist contributions in the last two years (such as Mike "Madman" Leonard, James Carl McKnight, Frank Chavez, Chuck Walton and Mike Dubisch) but there are two artists in the last year that deserve special mention.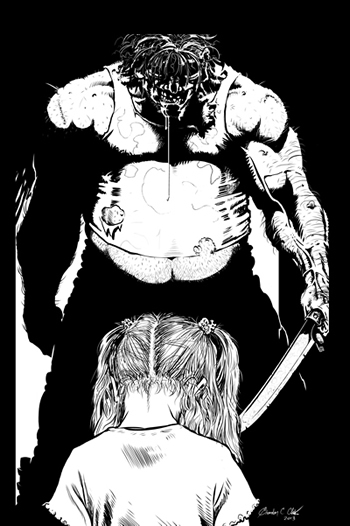 Brandon C. Clark- Brandon has been a godsend to the house since his involvement back in June. Brandon illustrated many of my favorite images in the BTS 2nd edition book, and since our meeting each other, I'm thankful that I now call him my friend, and for taking time out of his busy schedule to draw several new illustrations for the website, including a couple of great character portraits, a guest bathroom illustration (which he completely surprised me with), and a few supernatural monster illustrations. Then he completely blew me way with what he did next.

Anyone who's ever played in my home games or my "Amber Alert" convention game knows that the Bogey Man is the supernatural monster I love to hate most. And while I love Brandon's head shot of the Bogey Man in the book, I've always wanted a full body illustration to show the players when they confront him. So after talking with him, I sent Brandon my "Amber Alert" adventure notes to help him get the feel of what I go for in my games, and what he sent me back took my breath away. The illustration you see to the right is his depiction of an absolutely terrifying visage of the Bogey Man!

This is EXACTLY how I see him in my head! The wild hair, the drooly grin with missing teeth, the broad shoulders and the powerful arms, the large knife that's seen a lot of use, even the "wife beater" and pot belly that gives him an "abusive adult" vibe; he's altogether nightmare inducing! But the kicker is how he's looking down at Amber, and how she's looking down in response, as if she's given up all hope, knowing what horrible fate's in store for her (unless the player characters can save her in time). I've purchased a print of this piece and since placed it on my wall, and it's chilling to look at large sized.

Brandon has been such a great friend to the house (and to me personally) and I'm forever thankful for all of his work, comments, and advice. We're planning on doing some really great projects together in the future; if you like what you've seen of Brandon on the House of BTS so far, you aint seen nothing yet!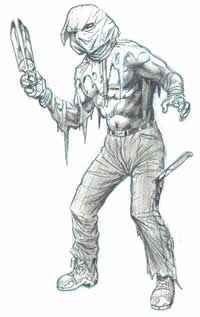 Kent Burles- Kent has been a Palladium Books artist for years now, and I've always been a fan of his work. While I may be biased, one of my favorite pieces is the "Scaring Crow" monster that I'd written, which showed up in the Rifter #44. I was lucky enough to have purchased the original illustration from him, which hangs on my wall with pride.

For those who may not know, Kent currently has a "one new character sketch a day" personal challenge taking place on his Facebook page, and he's sketched up some wonderful images. Well, after talking with Kent a few months back, we agreed on a joint project with what he calls his
"Slasher Series" he illustrated during the Halloween season. In response, I took the illustrations and fleshed out fully pregenerated villain characters, posting them here on the House of BTS. It was a great success!

Both Kent and I had a lot of fun working on these together, and I'm extremely thankful that he not only took the time to illustrate his slashers, but that he gave me permission to write up and share them in character format with all the BTS fans who took the time to visit the house this last Halloween season.
Note: If you missed them, the "Slashers" will return for next year's Halloween season. Kent and I have enjoyed doing this so much that we've discussed creating more characters together occasionally (in fact, you can find "The Chopper" down below, who's visiting the house through Thanksgiving) so keep an eye out for them!

The contributing writers: As a BTS fan site, I encourage this site to be stuffed with material that's written by the fan for the fans. To that end, there are several individuals that's contributed to the site this last year and deserves special mention. In no particular order I'd like to thank the following contributors:
Anthony Uyl, "Mephisto", Jeff Duncan, Raven Davenport, "Hendrik", Troy "Dolcet" Brock, Warren "Hibik" Davis, Scott Gastineau, and Ben Barton. Your contributions all help make the House of BTS an even more exciting (if not a horrifying) place to visit.

And you, my esteemed house guest: This site exists for one purpose; to be the best Beyond the Supernatural fan site out there (and I think it is, but I may be bias). For all of the writer and artist contributions this last year, this site needs visiting BTS fans, as well as those who are curious about the game, to be truly successful.
And so I thank you, dear reader, for coming to pay a visit to the house. I try to update the House of BTS with new material regularly, so feel free to stop by occasionally, as well as to contribute something you think would be a worthwhile addition to the house.

Have a happy Thanksgiving everyone, eat lots of turkey and cranberries!

-Your Host
Archives
Past news and information concerning the house that's more than six months old, but is still worth knowing can be found below:
This has been a long time coming, but the House is now officially hosted with pride by Host Omaha! From here on out, you'll find the house by visiting "houseofbts.net".
This means that the house that Beyond the Supernatural built is here to stay!

It will continue to serve as a BTS fan resource like it always has, but it will now be used as a sampler page in my hopes to build a niche as a fan site designer. You can also continue to follow the paranormal activities that go on inside the house through the Facebook page.

I also hope to spring board the site to new heights as I've lot lots of ideas and plans to build onto current (and possibly new) sections of the house. New monsters, new NPC, new gear, and more is coming! Stay tuned!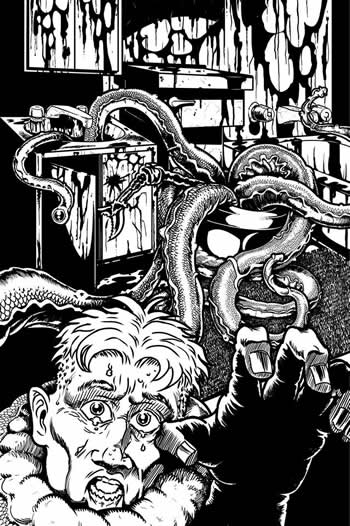 6/19/13 - I've just received word from my newest guest and BTS artist Brandon C. Clark that there's a problem with one of the guest bathrooms in my house. "Something's gumming up the plumbing" or something like that he said...

But not to worry, I've sent someone in to feed the take care of the problem, and it should be resolved soon.

In the meantime, I've set up Brandon with another guest room, for there's always plenty of space for guests in the House of BTS, its how I feed the house staff keep the house staff occupied.






(Seriously, I love Brandon's newest illustration, which he drew especially for the House, promising that more exclusive pieces will grace the galleries, the many rooms, and the hallways of the house.)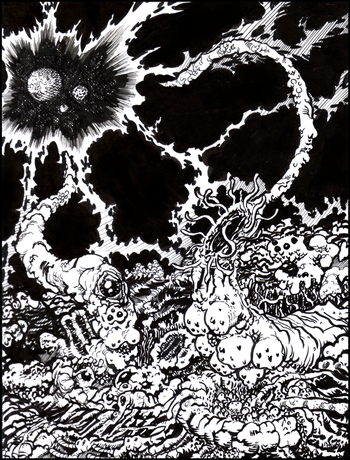 6/10/13 - Palladium Artist Brandon C. Clark was kind enough to point out to me an unused illustrated he created of an Alien Intelligence for Beyond the Supernatural. While its unused at this time, I'd like to think it will show up in the Tome Grotesque sourcebook.

Brandon's illustration is grotesque, its horrible, its twisted, its sickening, and it makes my blood curdle... therefore it's perfect for displaying on the walls of the House of BTS! Nice work Brandon!

P.S. Brandon's also got a few more BTS illustrations that I plan to round up and display through the house in time. Keep a look out for more of his festering, hideously awesome work! Oh, and feel free to look at more of his fine works on his deviantart page.

(12/3/12) - If you haven't seen it yet, The House of BTS now has a page on Face book. Please like it to be kept up on the news and happening that go on within the house.
(11/26/12) - I'm happy to announce that I've gotten permission from "Midnight Syndicate" to play their hauntingly atmospheric music within the varied rooms and hallways of the house! I'm a big fan of their work (have been for years), I proudly own all their music CD's, and I've used many of their tracks in my BTS games.
I will be posting their music across several pages of the House in the coming weeks, but as you can hear, I've already updated the home page with a BTS worthy selection to help set the mood.
3/31/12- I forgot to mention that Palladium Books has released bookmark set #2, which includes the Beyond the Supernatural book cover as one of the available book markers. Check them out here.
Back to Folder Tabs