"It was an evil house from the beginning - a house that was born bad."
– Dr. John Markway, The Haunting
You have entered the House of BTS...
a house that exists
"Beyond the Supernatural"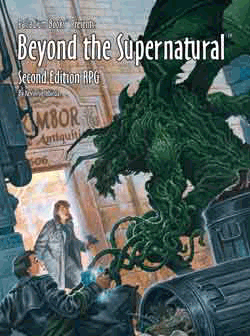 "Welcome to my house, I'm delighted that you could come. I am certain you will find your stay most illuminating. It is regrettable that I cannot be with you, but I had to leave before your arrival. Do not let my physical absence disturb you, however. Think of me as your unseen host and believe that, during your stay here, I shall be with you in spirit. May you find the answer that you seek. It is here, I promise you."
-Emeric Belasco, Hell House
Step into my parlor... welcome to my House, which is dedicated to the Beyond the Supernatural™ (BtS) Role Playing Game from Palladium Books™. All of the content within this house is a collection of thoughts, ideas and suggestions to help you improve your BtS gaming experience. It also serves as practice for my continuing education as a web designer, so stop by regularly for updates to both the site and content.
Beyond the News and Updates
November 2014
October 2014
November 2014
September 2014
June 2014
May 2014
Archives
The Ha-Foot Infestation of 2014: For those of you who wondered what happened to the House of BTS during the last week of October (the most important week of the year in the House), I regret to inform you that we had a Ha-Foot infestation. Those little imp's thought that it was a great Halloween prank and funny as heck, and it took the entire house staff, a few Hell Hound's, several paranormal investigators and myself to find and exterminate them all. Sadly, in the process we couldn't get the website back up and running in time for Halloween.
But this house is now free of Ha-Foot (for the moment), the site is back up and running, and I even found removed a few bugs in the process… they were crunchy and delicious. And so, I still have promises to keep, including adding a few new items to the house. If starters, Kent's serial killers have agreed to stick around until Thanksgiving as there are a few I haven't highlighted as of yet. A few bits of info will be added, and a few other surprises are in store.
And now, to get things back in order, Spew, one of Kent's serial killers, is now available on his Psychic Serial Killer's page. Go find him, if you dare!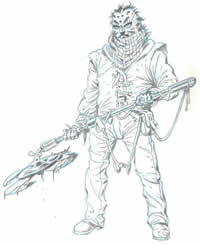 10/6/14 - I'm happy to announce that Kent Burles' Psychic Murderers and Serial Killers have been showing up one at a time over the past few days at the House of BTS for the Halloween season, and they are already living it up! At the rate they're going, I'm going to run out of house guests and staff by Halloween! But they're all welcomed and honored guests all the same!
So to celebrate their arrival, I'll be releasing their character sheets throughout the Halloween Season! For those of you that collected them last year, these sheets have been updated with new details and corrections, so it's worth getting these newer versions.
They're only here until Halloween (or until the house runs out of house guests and staff), so click here to visit their page before they leave!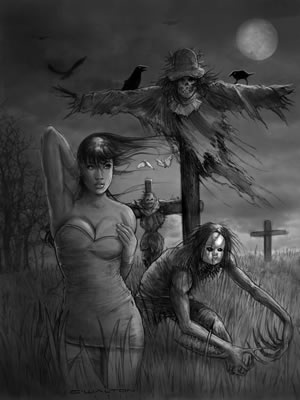 10/1/14 - Well... October, the fall season and Halloween are all upon us again, and I for one am going simply raving mad about it! The paranormal activity within the house is increasing as well as the number of house guests (and the supernatural creatures & monsters that stalk them). Kent Burles' Psychic Serial Killers and Murderers are returning as honored guests for the season (and will be arriving soon), and several tricks AND treats will be passed out throughout the month.
In fact, I'll pass out my first treat now!
When I attend game conventions and run a Beyond the Supernatural game, I bring along copies of what I call the Character Sheet Reference and Tracker page. Its a two sided document designed to make it easy for first time players to find details in the book concerning the information on their BTS pregenerated character sheet.
Well, for the first time ever I'm making this page available for all of my house guests! Click here to get it!
While its not the most useful for long time players, the tracker on the back side can still be of use to you. If nothing else, when you run your own BTS con-games, you're welcome print up copies to pass out to your players.
Keep your eyes on the House of BTS as more goodies will show up throughout the month! You can watch the Palladium Forum page as well as the Facebook page for news and information as well.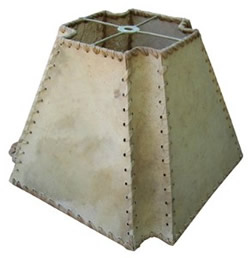 9/15/14 - "In the early 1970's, anyone who was actively practicing occultism (Mediums and Spiritualists in particular) had heard of the name "Sabatina Achille". Sabatina was a Haitian vodouist who was said to regularly make contact with an ancient African god.
She also raised goats and prepared goatskin hides for a living, some of which were used to make lampshades. It was discovered years later that these 'Sabatina Lampshades' are empowered with certain abilities."
The Sabatina Lampshades are now available in the Special Equipment section of the Laboratory.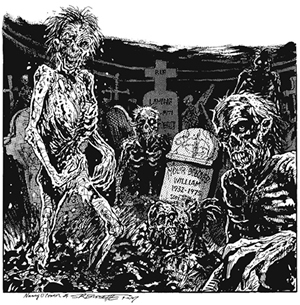 9/4/14 - Anthony's at it again! Frequent house guest & contributor Anthony Uyl has submitted "Rise The Dead" (a twelve page BTS adventure) to the Adventure Ideas section for your delectation and delight!
"In this adventure, characters will be thrust into a small town where many superstitions and folk-lore abound. The P.C.'s will have to determine what's true and what's false as they follow the tracks of a mysterious stranger the locals claim have been causing strange people to emerge from the dark forests surrounding the small town of Hemel. When they find him, they'll be thrust into a climactic battle against a great evil and its source of power".
Click here to head over to the page or visit our Guest Services area to see everything the house has to offer you as our welcomed guest.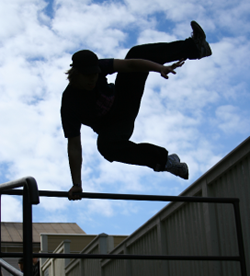 9/2/14 - Its been a long time coming, but a new teenage Pregenerated Character can be found wandering the House of BTS.
Keep an eye out for Alexander "The Kid Psychic" Michaud, a Latent Psychic and Defamed Television Personality and Professional Psychic. He's fourteen-years-old, he's mouthy, he's arrogant, and he's out to prove himself to be a real psychic after being publicly humiliated on live television. His confidence, his arrogance, and his hero complex has only grown with his skills and psychic abilities.
You'll probably find him outside behind the house, practicing his parkour and skateboarding talents.

9/1/14 - The House of BTS has been quiet for the last few months, but the things that go bump in the night are starting to wake up for the Fall and Halloween.
To help wake up your taste buds for the coming Fall/Halloween season, sample some of the fine BTS adventures available in The Rifter, such as The Hollow Road, written by frequent house guest and contributor Anthony Uyl! While you're at it, check out the artwork of Benjamin Rodriguez who illustrated the adventure.

6/17/2014 - Due to getting several requests for it, I've created and added a PDF version the BtS Character Sheet that I use for all my characters, including the Pregenerated Characters, Player Characters and Non-Player Character you'll find wandering throughout the House.
Its similar to the one your familiar with in the book (and Palladium's website), but I've tweaked it a bit to add some extra details. You can find it downstairs in the Lab.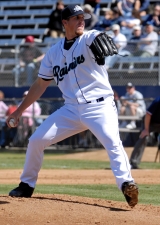 6/4/2014 - As baseball season is in full swing, it felt like it was time to present a pregen I've been holding onto.
Douglas Ferguson, a Natural Psychic and baseball fan, is now available on the Pregen's page!
"Douglas is a 30-year-old Natural Athlete and Assistance Coach for the Tacoma Rainiers as well as an athletic wear and gear model. Douglas grew up an only child in Jewish family and fell in love with a variety of sports (baseball in particular) early on.
Doug had plans to become a baseball star in the major leagues before witnessing a monster steal one of his team mates away in the middle of the night. As he came to understand what he saw, and the horrible truth of the supernatural, Doug felt that he had to do something about it."
6/1/14 - In general I don't like to brag or pat myself on the back, but sometimes it's nice to get a compliment, if only to be reminded that I'm doing it right.
I've gotten plenty of compliments on the House (which is fantastic as I'm pretty proud of it), but there are a few compliments both directly & indirectly that I wanted to share.

-From a review by the Semi-Retired Gamer who had this to say about the house:

"Even thought I do not own or play BTS yet, I found the fan site to be extremely well done and should be of use to others. This site is basically what every gaming fan site should strive to be".

-I spotted these in a BtS related post on the Palladium Forums:

ffranceschi wrote:"BTS has MrLoucifer and the best Palladium related website ever"...
Hendrik replied with: "House of BtS is awesome beyond the pale and getting better. Steven is an excellent writer chock full of excellent ideas and loves BtS."

-And while not House related per se, Stephanie, one of my players, had this to say about my home BtS game/materials:

"Another great GM is Steven Dawes... He's honestly the best GM I've ever played with. His Beyond the Supernatural games are brilliant."

I'm flattered to death by words like these; they help keep me and the house going.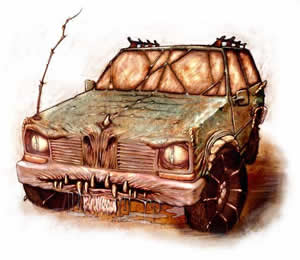 5/1/14 - It gives me great pleasure to announce that we have a new house guest.
Freddy Lopez, an illustrator specializing in cards, games and comics, has come to pay the House a visit, and he came in a Daemon Mobilis.

The Daemon Mobilis is a kind of spirit or entity that possesses vehicles as its method of luring and feeding on the life energy of its victims. It prefers (perhaps even requires) that the vehicle's body style must be fully enclosed to trap and contain its victim while it feeds.

With his permission the "Daemon Mobilis" is now available on the Supernatural page!
Archives
Past news and information concerning the house that's more than six months old, but is still worth knowing can be found below: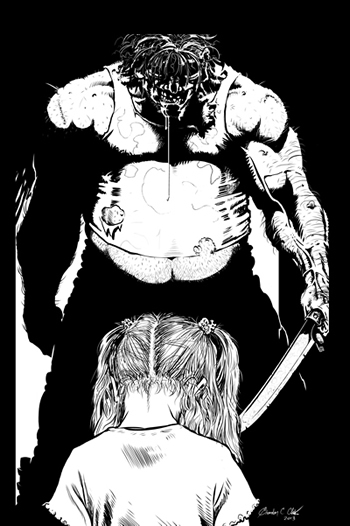 3/16/14 - May I have everyone's attention please?
Brandon C. Clark is the interior decorator of the House of BtS, and in many ways I consider him my right hand concerning matters in the House.
Well, Brandon has run into a stitch that you can help unravel. In short, he needs character commissions, and the speedier your commission come the better.
I can tell you from personal experience, Brandon understands and knows the BTS vibe (or other RPG settings if desired), his character commissions are always top shelf quality, and he's expedient. I have a photo album dedicated to his work on The Facebook page (as well as spattered around the walls of the House) if you want examples of his fine work.
His standard rate is $25 for a character portrait (unless you want something intricate). Honestly, for the quality of his work, that's an outright steal!
Brandon has a Facebook page where you can befriend and reach him at, or you can contact him via his e-mail address at goldbrandonium@gmail.com (which coincidentally is the Pay Pal address you can send him funds through).
1/26/14 - The "Semi-Retired Gamer" is a blog featuring the game related ramblings and ideas of a role-player of over 30 years. And I'm proud to say that he reviewed the House of BTS on his blog! And what did he have to say? Heres a few excerpts:

"Even thought I do not own or play BTS yet, I found the fan site to be extremely well done and should be of use to others."

"This site is basically what every gaming fan site should strive to be."

So click here to read his full review; tell him the Host sent you while your there.
This has been a long time coming, but the House is now officially hosted with pride by Host Omaha! From here on out, you'll find the house by visiting "houseofbts.net".
This means that the house that Beyond the Supernatural built is here to stay!

It will continue to serve as a BTS fan resource like it always has, but it will now be used as a sampler page in my hopes to build a niche as a fan site designer. You can also continue to follow the paranormal activities that go on inside the house through the Facebook page.

I also hope to spring board the site to new heights as I've lot lots of ideas and plans to build onto current (and possibly new) sections of the house. New monsters, new NPC, new gear, and more is coming! Stay tuned!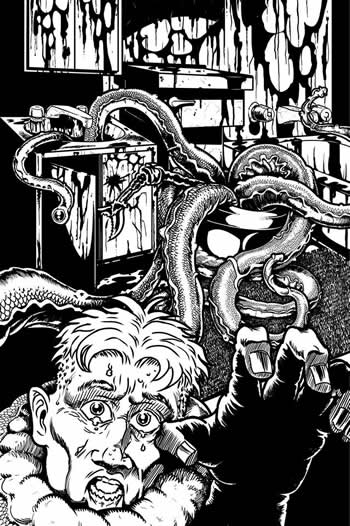 6/19/13 - I've just received word from my newest guest and BTS artist Brandon C. Clark that there's a problem with one of the guest bathrooms in my house. "Something's gumming up the plumbing" or something like that he said...

But not to worry, I've sent someone in to feed the take care of the problem, and it should be resolved soon.

In the meantime, I've set up Brandon with another guest room, for there's always plenty of space for guests in the House of BTS, its how I feed the house staff keep the house staff occupied.






(Seriously, I love Brandon's newest illustration, which he drew especially for the House, promising that more exclusive pieces will grace the galleries, the many rooms, and the hallways of the house.)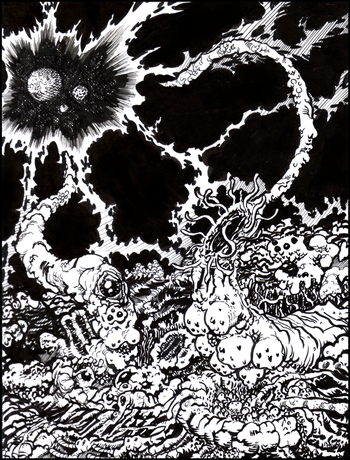 6/10/13 - Palladium Artist Brandon C. Clark was kind enough to point out to me an unused illustrated he created of an Alien Intelligence for Beyond the Supernatural. While its unused at this time, I'd like to think it will show up in the Tome Grotesque sourcebook.

Brandon's illustration is grotesque, its horrible, its twisted, its sickening, and it makes my blood curdle... therefore it's perfect for displaying on the walls of the House of BTS! Nice work Brandon!

P.S. Brandon's also got a few more BTS illustrations that I plan to round up and display through the house in time. Keep a look out for more of his festering, hideously awesome work! Oh, and feel free to look at more of his fine works on his deviantart page.

(12/3/12) - If you haven't seen it yet, The House of BTS now has a page on Face book. Please like it to be kept up on the news and happening that go on within the house.
(11/26/12) - I'm happy to announce that I've gotten permission from "Midnight Syndicate" to play their hauntingly atmospheric music within the varied rooms and hallways of the house! I'm a big fan of their work (have been for years), I proudly own all their music CD's, and I've used many of their tracks in my BTS games.
I will be posting their music across several pages of the House in the coming weeks, but as you can hear, I've already updated the home page with a BTS worthy selection to help set the mood.
3/31/12- I forgot to mention that Palladium Books has released bookmark set #2, which includes the Beyond the Supernatural book cover as one of the available book markers. Check them out here.
Back to Folder Tabs